E²CON-TE: TEM-Evo Retrofit for
modernizing MWM gas engines
With the experience we gained on well over 10,000 engine controllers for DEUTZ and MWM gas engines, we are confident we have designed the optimum solution for their modernisation. Taking current needs into account and anticipating future challenges. This new engine management system is based on openECS, and is conceived as a risk-free conversion for replacing the TEM-Evo controllers that were delivered as standard equipment on DEUTZ and MWM engines.
New plant concepts and operating modes demand a flexible engine control system that on the one hand can manage operation at the engine's mechanical limits and on the other hand enables an engine to be quickly and simply adapted to new requirements.
Advantages AVAT E²CON-TE
Simple commissioning
TEM-Evo-trained service technicians can exchange the system themselves, commission it and adapt it the plant
Delivery
of a complete scope-of-supply including circuit diagram, installation instructions, functional description, list of limit values and parameter descriptions
Web Interface
to the E²PILOT workstation for direct insight onto the controller from any web-capable client
Optional Connection
to the AVAT VIRTUAL SERVICE CENTER for an overview of all connected plants and to an alarm management system with live status
VHPready
for straightforward integration of the plant into a virtual power plant, without the need for an overriding control system to cover this function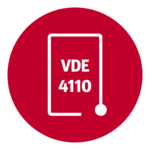 Statement of Conformity: For the use of E²CON-TE according to Code of Practice VDE-AR-N 4110 (TCR Medium Voltage), a certified proof of TEM-Evo equivalence is available.
Modernizations with E²CON-TE do not represent a significant change compared to the MWM series control system. Engines and plants previously controlled by TEM-Evo behave uncritically with regard to the electrical characteristics after retrofitting with E²CON-TE and show the same behaviour with the same parameterisation. With E²CON-TE afterwards is like before - contact us for further information!
Familiar technology brought right up-to-date
Based on the open and flexible openECS hardware and software components and an reliable industrial, E²CON-TE offers significantly more scope for individual system adaptation and expansion. Likewise, E²CON-TE enables the control of complete peripheral systems to be readily implemented, or connections into SCADA systems and virtual power plants to be easily realised. Further information about the openECS principle here.
Plug & Run Retrofit
Fast and simple system update by means of a pre-configured control cabinet for direct installation on site. Generator-set cabling can be retained and only renewed when "natural" degradation dictates.
Parameter Conversion
The risk-free update is achieved via a unique parameter converter. The system's major control functions, such as start/stop, emissions control and control of peripherals behave the same after the retrofit as they did before. In this way AVAT optimally minimizes the risk that the modernization of a competitor's system could lead to a deterioration in control functions.
Extended Parameter Accessibility
More scope for individual system adaptation and expansion to specific operating conditions. The familiar control functions of TEM-Evo have been further optimised and are available in their accustomed quality.
Optimised Operation
The familiar operating concept as well as the parameter views are retained. With the new operator interface of E²PILOT, anyone who knows the earlier system will soon be at ease and confident enough to start work. In addition, with E²SERVICE service technicians have available a comprehensive service and diagnostic tool.
Functions
Closed-loop control of engine speed, power and air/gas mixture via a single, robust and fast multi-variable controller
Faster engine run-up for flexible operation
Start/Stop sequences for island and grid-parallel Operation
Wastegate control and ignition management
High selectivity knock control of individual cylinders
Misfire detection with automatic power reduction down to engine shutdown
Cogeneration plant control (peripherals)
Closed-loop control and monitoring of all cooling and heating circuits
Fan control for dry and hybrid coolers
Control of flow-side temperature even in part load operation
Sales and Service Partners
Trusted partners for your energy are characterized by competence and qualified expertise. Contact our Certified System Partners directly for integral consulting, planning, sales and commisioning as well as maintenance and repair services on site of our products and solutions.