Jenbacher Retrofit
engine control system
E²CON-GE
E²CON-GE: The Jenbacher Retrofit for more flexibility and an independent gas engine.
Increasing the efficiency of gas engines in the context of modernization and new cogeneration plant operating concepts demand stable and performance-enhancing components as well as a more open and flexible gas engine control system. One that can keep the engine operating safely at the limit of its mechanical repowered parts while at the same time integrating it seamlessly into the cogeneration plant or into a whole network of plants.
With the Jenbacher engine specialized control system, system upgrades are straightforward while providing more options for your individual specifications.
The tailor-made engine controller for Jenbacher gas engines is a specialized control system which is open for all types of expansion. Functions, modules and subsystems harmonize with a high performance user interface to form a single unit. The application for Jenbacher engines covers all your known requirements.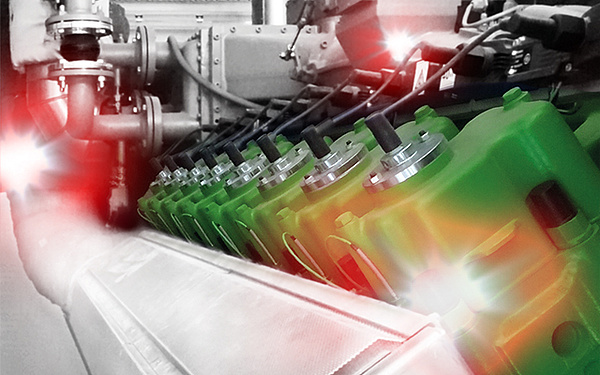 A more flexible control system for performance-enhanced Jenbacher gas engines in the context of plant modernization
More possibilities to change your engine settings
Reliable knocking and misfire detection included
Grid and generator protection on board
Powerful built-in diagnostic and service tools
Remote and Smart Services on request
One system for the engine and the auxiliaries
Flexibly expandable and adaptable at all times
Update availability over many years
Independent and fast service
Professional support and consulting for plant optimization
Control of engine speed, power and air/gas mixture
Start/Stop sequences for island and grid-parallel Operation
Compressor bypass control and ignition management
High selectivity knock control of individual cylinders
Misfire detection with automatic power reduction down to engine shutdown
Monitoring of all sensors and measured values
CAN connection to the ignition system
Cogeneration plant control (peripherals)
Control and monitoring of all cooling and heating circuits
Fan control for dry and hybrid coolers
Control of flow-side temperature even in part load operation