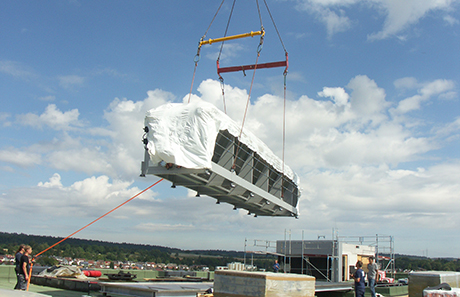 As a general contractor for the Stadtwerke Bretten public utility, we delivered a turnkey CHP energy center for the new Rechberg Clinic in Bretten. Stadtwerke Bretten is the contractor responsible for the entire heating and cooling supply of the new clinic building. Our integrated overall solution, from the higher-level energy center control system to the energy management system, ensures the safe and efficient supply of electricity, heat and cooling to the hospital.
Energy management that continuously optimizes generation and consumption is carried out by our smart energy management system, SE²MANAGER. The central control technology is based on our SE²OPERATOR and the SE²MASTER is used for the higher-level control of the energy center.
In addition to conception and planning in all project phases, our scope of services also includes the procurement, delivery, assembly and commissioning of power units, plant construction and electrical installation, MSR and control technology as well as energy management systems.
In the hybrid energy center, two CHPs (142 kWel / 207kWth each) and two peak load boilers (1 MWth each) with oil/gas operation ensure the heat supply.
Cooling is supplied from a combination of two compression chillers (440 kWth each), an absorption chiller (140 kWth) and a free-standing cooling unit (300 kWth). There is also a recooling plant (1,200 kWth), two cold storage tanks with 10 m³ each and a heat storage tank with 20 m³.
Customer benefits
Turnkey delivery of the entire energy center
Reduction of interfaces and project complexity with only one supplier
Lower technical and economic risk due to the commissioning of a general contractor
Ensuring a consistent and coordinated overall solution
Fast project implementation thanks to standardized products
Precise energy management according to EN 50001
Optional expansion and connection of additional energy centers at any time
Control technology and energy management can be expanded at any time