E²CON-CHP: complete control system
for all kind of engines and CHP modules
The further development of gas engines and new cogeneration plant operating concepts demand a flexible engine controller. One that can keep the engine operating safely at the limit of its mechanical performance while at the same time integrating it seamlessly into the cogeneration plant or into a whole network of plants.
Based on the open and flexible openECS hardware and software components, the E²CON-CHP creates a control system for the entire CHP modules including the gas engine. For typical applications we already have tried-and-tested configurations - from circuit drawings to system visualization. The ideal starting point for coming to your new and scalable solution with minimal adjustments. Further information about the openECS principle here.
Advantages AVAT E²CON-CHP
One control system for both the engine and the CHP modules
Direct NOx control application, including cloud monitoring, for ensuring
compliance with the emission limits set by the 44th BImSchV
Very fast and robust multi-variable closed-loop controller
Rapid engine run-up to operating speed for a flexible operation
Wastegate control for improved efficiency
Grid protection
Flexibly expandable and adaptable at all time

H2-ready

for future hydrogen applications up to 100%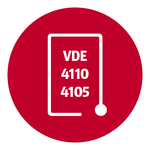 Certification: For the use of E²CON-CHP according to VDE-AR-N 4110 (TCR Medium Voltage) Code of Practice, a certificate is available. Request our list of certified combinations of gas engines, generators and electronic components already certified with E²CON-CHP. If our already certified modules do not cover your requirements, our modular TCR certificate at a fixed price will help you – contact us now!
The "Technical Connection Rules Medium Voltage" VDE-AR-N 4110 (TCR Medium Voltage) Code of Practice, defines the requirements for energy systems at this voltage level. Manufacturers have to comply these technically binding standards in Europe in order to enhace the energy plants and grids in the long term.
Functions, Engines & Applications
Closed-loop control of engine speed, power and air/gas mixture via a single, robust and fast multi-variable controller
Start/Stop sequences for island and grid-parallel operation
Wastegate control and ignition management
High selectivity knock control of individual cylinders
Misfire detection with automatic power reduction downto engine shutdown
Monitoring of all sensors and measured values
CAN connection to the ignition system
Cogeneration plant control (peripherals)
Closed-loop control and monitoring of all cooling andheating circuits
Fan control for dry and hybrid coolers
Control of flow-side temperature even in part load operation
Engines and actuators
Premix, lean burn gas engines from
MAN, Liebherr, MTU, Perkins, Caterpillar, etc.
250 to 2000 kW output range
4 to 20 cylinders
Natural gas, biogas, wooden gas or special gases as well as hydrogen (H2)
Exhaust gas turbocharger with option of wastegate actuation
Central venturi gas mixer with stepper motor control
High voltage capacitor ignition systems
Two-stage intercooler
Plants
Stationary cogeneration plant applications
Containerized system or installation in permanent structures
Engine cooling circuit with emergency cooling via dry cooler
Intercooler circuit with dry cooler
Heat extraction via engine coolant and exhaust gas heat exchanger
Synchronous AC generator, low or medium voltage
Grid code compliance
Sales and Service Partners
Trusted partners for your energy are characterized by competence and qualified expertise. Contact our Certified System Partners directly for integral consulting, planning, sales and commisioning as well as maintenance and repair services on site of our products and solutions.