Build the future together with energy
Team spirit and acceptance form the basis for your and our success. With an introductory day at the beginning of your activity, workshops and leisure events, we promote cohesion and communication to our team.
Building competences
With us you are firmly embedded into a team from the start. From the first day every AVAT employee has his personal mentor, who above all offers advice and assistance in your early days at AVAT. Thereafter your qualification and personal development are the focus.
Developing a team Spirit
We promote cohesion and communication within the teams via an induction day at the beginning of your employment as well as in subsequent workshops leisure activities.
Performance-related remuneration
The AVAT remuneration model consists of a guaranteed basic salary which offers you security plus a variable element which you can influence via your individual job performance. In addition to your basic salary you also receive a guaranteed Christmas bonus. Further, you will agree targets with your Team Leader, and when you attaining them you can receive a premium of up to two month's salary. Overtime is compensated.
Personal development
A transparent career system forms the foundation of your progression at AVAT. This system comprises the of career steps:
Development Engineer / Software Developer
Project Manager / Senior Software Developer
Group Leader
Head of Department
Head of Business Area.
Project und leadership experience are further developed at every stage. In addition we offer our employees the chance to take on the start-up of a new department. Long-term career development measures an dissertations are also possible at any time.
Certified as an 'Excellent Employer'
by TÜV Rheinland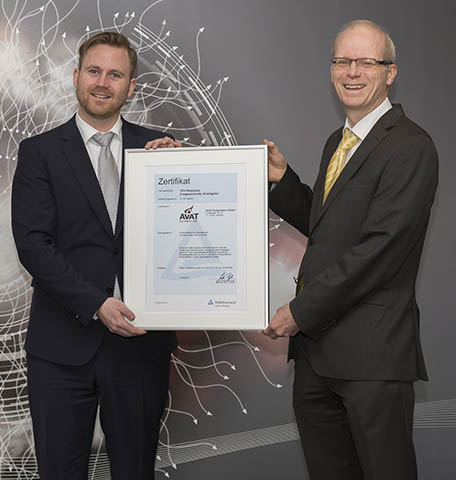 Since 2017 we're certified by the independent testing body TÜV Rheinland according to the standard "Excellent Employer". This makes us the first company of this size with the new TÜV Rheinland seal.
The certificate demonstrates our professional and effective personnel management as well as attractiveness as an employer. We see the certification as confirmation that we are acting on our company values, which make a major contribution towards our good working atmosphere. At the same time, it confirms our day-to-day commitment to shaping the future together, both for and with our staff.
TÜV Rheinland audits all processes of personnel management, from personnel development and management to recruiting, which are required by the "Excellent employer" standard. The audit also focused our corporate culture, values, communications and objectives. The internal processes and structures as well as the corporate culture were positively highlighted by the auditors. The latter was even referred to as a "rare good".